Every product in the VoCoVo range is packed with features to make in-store communication as easy as possible. The VoCoVo ecosystem uses Headsets, Call Points and Keypads to bridge the gap between colleagues and customers, no matter the size of your store.  
The basic VoCoVo package gives you everything you need to provide top-notch customer service, but this is only the beginning. We also offer a range of add-ons that allow you to fine-tune the in-store experience. Here are just a few examples:
Multiple conferences
Every VoCoVo system can accommodate up to 1,000 headsets on a single conference. This is great for keeping everyone on the same page, but what if you want a more specialised conversation? 
Our multi-conference feature allows you to create as many bespoke conferences as you wish. This has a number of advantages:
Different departments or floors can talk on their own channel without distracting other colleagues.

If specific information is required, colleagues can select the appropriate channel and get an answer immediately. This means that customers do not have to wait while you try to find a colleague with the relevant knowledge. 

Multiple conferences are also a useful safety measure. By allocating a separate channel to your security team, you can ensure that incidents are dealt with as quickly as possible. 
Two-way Call Points 
Our Call Points provide an invaluable link between customers and colleagues. Standard Call Points allow customers to summon help, but they do not allow colleagues to respond. This is fine in most situations, but sometimes a two-way conversation is preferable. Our two-way Call Points allow colleagues to respond to customers from anywhere in the store. This has two main advantages:
Colleagues can let customers know that they are on their way. Many customers are still nervous about being in stores, so they will be grateful for this reassurance.

Colleagues can answer some queries directly via the Call Point. Not only does this help you to maintain social distancing, it also

saves a lot of walking

. Our research shows that VoCoVo can reduce walking distance by 1.4km per day, saving you £442 per week per store. 
Our upgraded Call Points also keep track of how long it takes you to answer each query. This allows you to work out the best location for your Call Points and to spot other opportunities for improvement.  

Telephony integration
We may be living in the internet age,  but the telephone still has its uses. Over 50% of customers prefer to use the phone to contact a business. In fact, it's still the most popular customer service channel across all age groups. Up to 85% of customers whose calls are not answered will not call back, so it's vital to monitor your phone lines. 
We offer full telephony integration, so you can make missed calls a thing of the past. Whether you use a PSTN, ISDN or PBX system, VoCoVo can integrate seamlessly with your current provider. If you prefer, we can even replace your provider altogether. 
With our system in place, colleagues can answer incoming calls via their headsets without stopping work. They can also make outbound calls at the push of a button with our speed dial function. No more keeping customers on hold. Telephony integration turns your entire shop floor into a mobile call centre.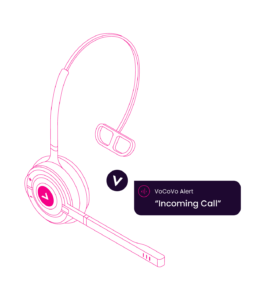 A world of possibilities
We've barely scratched the surface here. From integration with smart devices to in-depth data analysis, VoCoVo has something for everyone. All of these add-ons are available right now, and there are many more in the trial stage.
It's worth noting that none of these features are offered by our competitors. If you want to give your customers a little something extra, VoCoVo is the only choice.