Here at VoCoVo, we know that communication is the key to a positive customer experience. All of our products are designed to keep colleagues and customers on the same page. Our Call Points allow customers to ask questions and check stock levels without searching for a colleague. Our Keypads allow checkout colleagues to call for assistance without holding up the queue. 
None of this would be possible though, without our Headsets. 
Headsets are the backbone of the VoCoVo ecosystem. For this reason, we've put a lot of effort into getting them just right. Now on their fourth iteration, our headsets are packed with features designed to handle anything the shop floor throws your way. It would take more than a blog to describe them all, but here are five of our favourites. 
1. Two-way communication
All of our headsets are fitted with full-duplex technology. Put simply, this means that the audio flows in both directions. You can speak and listen at the same time, just as you would during a face-to-face conversation. This clearer communication has a number of benefits:
Colleagues don't have to waste time repeating themselves because a message has not been heard.  

Communication feels more natural, meaning that newer colleagues will be less nervous about asking for help.

On-the-job training sessions have a more conversational feel. Colleagues can chime in with questions without worrying about disrupting the session. 

 

2. Long battery life
We want our headsets to be as reliable as they are useful. That's why we've worked hard to maximise the battery life and minimise the charge time. Each headset will run for up to 55 hours on a single charge, giving you peace of mind for your entire shift. 
Better still, it only takes three hours to fully charge a headset with our handy wall-mounted charging docks. You can monitor the battery life of all devices via our online portal, giving you plenty of warning when a headset is running low. 
3. Mute function
Everyone needs a break sometimes. Maybe you're on your lunch and need to switch off for a while. Maybe you're carrying out a task that requires your complete concentration, or having an in-depth conversation with a customer. 
Whatever the reason, our headset's can be muted with a single button press. Our "smart mute" feature automatically provides the most appropriate type of muting for your situation. If you are in a conference, it will mute all messages. If you are having a one on one conversation, it will only mute your own microphone. Best of all, you don't have to worry about forgetting to unmute. A message will play periodically to remind you. 
4. Lightweight and comfortable
Our headsets are designed to be worn all day long. Whether you've been working for ten minutes or ten hours, maximum comfort is guaranteed:
A total weight of 28g means that there's no danger of neck strain

Lightweight materials and padded earpieces 

Three ergonomic wearing styles- choose from a headband, an earhook or a neckband according to your preference

5. Unlimited headsets with no interference
Ok, not quite unlimited but close enough. Unlike our competitors, VoCoVo can accommodate up to 1,000 devices in a single conference. That should be plenty for even the most mega of megastores. 
No matter how many devices are operating, VoCoVo provides a crystal clear signal at all times. This is because our base units are synchronised, meaning that they work together to share the radio spectrum. This allows you to talk freely without the cracks and whistles that plague traditional walkie talkies. As you move around the store, the signal transfers seamlessly between base units so you'll never hit a dead spot.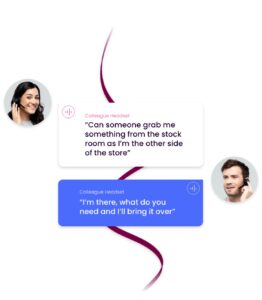 These are just some of the features that we believe make our headsets the best on the market. And that's before we even get into the optional extras! To find out more about our products and their features, don't hesitate to give us a call.