Non-essential stores are open again and customers are rediscovering their love of shopping. While the figures for the first week of trading aren't in yet, high street sales are predicted to surge by almost 50%. Judging by the bustling streets and long queues seen across the country on 12th April, this seems like a fair estimate. 
Here at VoCoVo, this came as no surprise. In December 2020 we surveyed customers from the UK and the US about their post-pandemic shopping plans. The results showed that the appetite for in-store shopping was alive and well: 
57% of shoppers are still confident in physical retail

64% don't expect the pandemic to affect their long-term shopping habits at all

41% prefer to see products before they buy them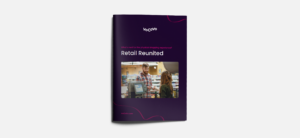 Since then, consumer confidence has increased even further. A survey by Deloitte in early April found that 56% of shoppers feel completely safe returning to the high street. This is 16% higher than the previous month, suggesting that the vaccine programme is helping to ease consumer anxiety.  
Same customers, new expectations 
Customers are eager to get back to the high street, but their expectations have changed. Many have grown used to the convenience of eCommerce and, as a result, have become acutely aware of the drawbacks of physical retail. 
Our survey found that 93% of consumers are frustrated by in-store shopping and 76% have left a store as a result. Addressing these frustrations will be the key to winning back old customers and attracting new ones. We wanted to give you a head-start, so we asked customers to name the worst aspects of in-store shopping. These are the top three.
1.  Crowded stores
Both UK and US customers named crowded stores as their top frustration. Overall, 34% of consumers said that it was the worst part of physical retail. At the height of the pandemic, 41% of shoppers admitted to switching stores to avoid crowds. Even after the worst has passed, many will continue to favour less crowded locations.  
VoCoVo reduces crowding by allowing you to serve more customers in less time: 
Headsets

allow colleagues to alert each other when a queue begins to build 

Keypads

let checkout colleagues call for help without holding up the queue 

Colleagues can remotely authorise self-service purchases without having to attend to each customer individually 
Items out of stock
Nothing annoys customers more than visiting a store only to discover that the item they want is out of stock. 34% of customers told us that this is their biggest frustration. Once again, VoCoVo can help:
Call Points

allow customers to check on the status of Click & Collect orders without searching for a colleague or joining the main queue

Colleagues can contact the stock room via their headsets. Customers don't have to wait for them to walk there and back

Headsets can be

integrated with your phone system

. Customers can call ahead to check on stock levels and colleagues can answer without having to stop their work
A lack of product knowledge
Modern customers are better informed than ever. 81% of customers do their own research before buying a product in store. Shoppers expect colleagues to know as much as they do, and many will take their business elsewhere if product knowledge is lacking. Our survey found that 82% of customers sometimes feel they know more about products than colleagues. 12% said that this was their number one frustration. 
VoCoVo places a wealth of knowledge at every colleague's fingertips:
 If colleagues are unsure about a product, they can contact an expert at the push of a button 

Our conference feature allows you to set up specialised channels for certain areas of knowledge 

Headsets allow you to provide

on the job training

  

Message casting

allows you to update colleagues on important developments without waiting for the next team meeting 
If the pandemic has taught us one thing, it's that we can't take our customers for granted. To succeed in the post-COVID world, you need to show shoppers that you are mindful of their concerns. With VoCoVo on your side, you can tackle customer frustrations and put the joy back into high street shopping.
Contact me or our team for more information.