Missed calls happen in every business, but in a digital age customer service expectations are high. When customers have a serious need, they're more likely to pick up the phone. The last thing you want to do is miss that opportunity.
In busy stores and hospitality venues, it's easy to understand why a call might be missed. But in doing this, we're saying to the customer that we're too busy for their needs. 
Leaving the call to an automated service or sending it to voicemail will further frustrate the situation. 
85% of customers whose calls aren't answered will not ring back. These customers are 60% more likely to take their business elsewhere, and 1.6 times as likely to talk about bad service than a good experience.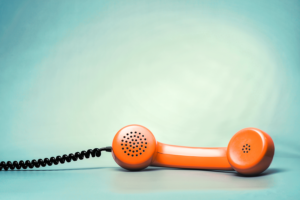 Why does it happen so often? 
Lots of businesses are running on fewer staff at the moment, during busy periods the team might be focusing on other tasks, or a customer might call outside of business hours. 
With the right technology and integration however, customer service needn't suffer because of time constraints.
The VoCoVo solution – Telephone integration
Our telephony integration gives your whole team the power to make, answer, hold and transfer calls from anywhere in store. 
This all takes place from one device, with a single PTT button. Forget excess tech, this single device option removes the need for clunky smartphones or walkie-talkies.
Colleagues can make outgoing calls, giving them the power to return calls or continue conversations if they're disconnected. Colleagues can answer calls seamlessly at work with the touch of a button, and can hold calls or transfer the customer to the relevant help. This is all handsfree, without having to waste travel time or compromise tasks at hand.
Our telephone integration options also include additional features such as:
Speed dial

Callback

Call forwarding
Never miss a call
With this technology in place, you can rest assured that your phones are managed. The entire team can answer calls from wherever they are in store. 
This results in better customer service, because questions are answered quickly and directly by a member of your trusted team. 
Our headsets and handsets integrate to answer external calls with any service provider. We integrate with a number of telephony services, including:
Our solution also integrates with well-known telephony brands, such as:
Cisco

Avaya

Broadcom

RingCentral

Twilio

Mitel
We can also integrate with or replace your existing telephone service provider. VoCoVo is tailored to suit your existing needs or upgrade your service, so that no call goes unanswered.
Select the right colleague
An additional feature of the VoCoVo telephony service is the ability to select and manage team members who make and receive calls. This enables you to choose the most relevant and experienced staff for customers to engage with.
We also integrate with your existing IVR, so that only the right departments are selected as reachable, leaving the core team undisturbed.
Give your team the freedom to roam
The great thing about having a telephony integration in place is that your team can get on with their tasks, without having to man a phone. We know our solution saves an average of £111 per week per store in task efficiency. This adds up to a saving of £2.8million a year across an estate of 500 stores. 
Your team can resolve queries without breaking the flow of their work, and the savings add up as a result.
Get in touch with our team today, and find out how we could integrate your telephone system for quicker, more reliable call answering, better customer service and cheaper telephone licenses.
For more information, visit our telephony integration page.