As we approach the anniversary of the first lockdown, there is finally some cause for optimism. If everything goes to plan, non-essential retailers will be allowed to open again in a matter of weeks. Better still, a recent report suggests that customers have more money to spend than ever before. But some will need a little more convincing than others. 
Customers are frustrated by a lack of knowledge
The pandemic turned online shopping into a necessity, and many consumers have grown used to its speed and convenience. For bricks and mortar to compete, you will need to listen to your customers' frustrations and do your best to address them. We wanted to give you a head start, so we asked consumers to name their least favourite elements of in-store shopping:
82% of customers have experienced a situation where they felt they had more knowledge than colleagues about products.

12% say that a lack of knowledge among colleagues is their top frustration.

26% regularly have to wait more than three minutes to have a query answered.  
A lack of knowledge among colleagues is clearly a major problem. Of course, improving the situation is easier said than done. Retail has notoriously high staff turnover rates (link to A44), meaning that inexperienced colleagues are inevitable. Newer colleagues need to be trained, but this means removing experienced team members from the shop floor. Until now that is.
Training that works for everyone  
Traditional training methods have their place, but they usually require gathering colleagues together for a formal session. This is not always practical, especially with social distancing measures in place.
By creating a single, open channel of communication, we create a learning environment that's effective for any new colleague. Knowledge can flow between experienced and newer hires, making onboarding easier. 69% of colleagues will independently search for ways to perform better at work, so why not encourage them?
VoCoVo allows you to share your expertise with newer colleagues while also giving them a sense of autonomy. Best of all, you can do it without stopping your work:
Headsets

allow newer colleagues to shadow more experienced colleagues as they work. You can explain each task as you perform it, giving a more hands on experience than a classroom session.

A study by the Human Capital Institute

found that partnering new hires with experienced colleagues speeded up the onboarding process in 87% of organisations. 

Headsets use

duplex technology

to provide clear, two-way communication. This gives training a more conversational feel, allowing newer colleagues to relax and take in the information. 

Headsets are hands-free so you can answer questions from newer colleagues without having to stop work. Newer colleagues are more willing to ask for help as they don't feel that they are imposing. 

Our conference feature allows you to set up dedicated channels for specific areas of training. Newer colleagues can find the information they need by moving into the relevant channel. 

Headsets allow you to send

personalised voice reminders

. This lets you remind newer colleagues of their tasks in a less intrusive way. Colleagues can also set their own reminders, increasing their sense of independence.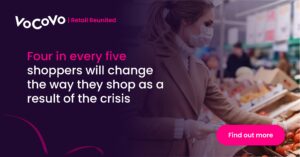 Good training pays for itself 
By speeding up the onboarding process, you can make sure that your team has the knowledge it needs to keep customers happy. Better training will also work wonders for colleague morale. Research by Glassdoor shows that effective onboarding can improve employee retention by 82% and increase productivity by 70%. All of this saves you money, meaning that training with VoCoVo will pay for itself many times over.