For the past 15 months we've been subjected to a slew of gloomy predictions about the end of the high street. Many commentators have cited a growth in e-commerce as evidence that in-store shopping is dead, ignoring the fact that online shopping has been the only option for most of the pandemic. 
Here at VoCoVo though, we are more optimistic. We know that the high street is more than just a place to buy goods. In-store shopping is an experience in its own right, and it's one that consumers relish. Last year we surveyed customers from the UK and the US and found that 57% were eager to get back to the high street. Better still, many of them craved the kind of experience that can only be found in stores:
41% wanted to see or try on items before they bought them

36% wanted to purchase products and take them home immediately

16% wanted to shop socially with friends and family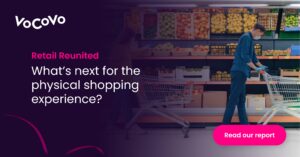 Experience is the key to loyalty
Customers are keen to return to the high street, but there's no guarantee that they will choose your store. The pandemic has transformed the concept of brand loyalty, perhaps causing it to disappear altogether:
35% of customer have changed the stores they shop in

Only 17% plan to return to their usual stores after the pandemic

14% say they no longer have loyalty to any particular store
The bad news is that you can't count on your old customers coming back. The good news is that thousands of new customers are up for grabs. The next few months will be all about attracting these customers and giving them an unforgettable experience. 
Focusing on customer experience has three major benefits: it encourages loyalty, increases spending and creates free advertising through word of mouth:
What do customers want in 2021? 
Talking about customer experience is all well and good, but what does it actually mean? Our survey showed that post-pandemic customers have a number of common frustrations. Addressing these will be the key to creating the perfect customer experience:
82% of customers feel that they sometimes know more about products than colleagues

26% typically have to wait more than three minutes to have a query answered

34% are frustrated by stock shortages

22% are frustrated by waiting times at the checkout 

22% are frustrated by colleague inefficiency
Better communication means a better experience
These frustrations all have one thing in common: a lack of communication. Whether it's waiting for a colleague to find information about a product or trying to get their attention at the self-checkout, poor communication is a recipe for customer dissatisfaction.  
At VoCoVo, we make it our mission to provide effortless communication for teams of all sizes. Whether you have five colleagues or 500, our system makes it easy to stay in touch. This allows you to streamline daily tasks, ironing out the most common customer frustrations in the process:
Newer colleagues can use

headsets

to find product information without having to track down a manager

Call Points

allow customers to talk to a colleague without searching for them

Customers can use call points to check stock levels without having to queue

Keypads

let checkout colleagues call for help without leaving their position

VoCoVo saves you an average of 105 minutes a day in

task efficiency

and reduces daily

walking distance

by 1.4km
With VoCoVo taking care of communication, you can focus your attention on the customers. By taking the time to address their frustrations, you can win their trust and loyalty for years to come.