On both sides of the Atlantic, vaccination programmes are underway. Although the battle with COVID-19 is far from over, there are already positive signs.  In the USA, over 2.7 million doses are being administered every day. In the UK,  infection rates have declined, allowing the government to continue easing the third lockdown. 
From the 12th April, all UK non-essential stores were allowed to reopen. In America, some states have also begun to lift restrictions. This will have come as a huge relief to thousands of businesses, but there are still challenges ahead. 
Have customers been spoiled by online shopping?
The pandemic has forced customers around the world to find new ways to shop, and many have found this to be a positive experience:
Online shopping

surged by 129%

in the first month of the pandemic, and it has remained high ever since 

In America, ecommerce sales grew by

44% in 2020

. In early January 2021,

35% of all UK sales

took place online, including 14% of all grocery sales

Nearly half

of shoppers have bought a product online for the first time, and a third plan to do at least some of their shopping online in the future 
Internet shopping offers a level of convenience that is new to many consumers.  After a year of making purchases from the comfort of their own homes, customers may find the in-store experience frustrating by comparison. 
Addressing these frustrations will be the key to bringing customers back to the high street. But first you need to know what these frustrations are. That's why we surveyed customers from the UK and the US to find out their pet peeves. Some frustrations were common on both sides of the Atlantic, while others were more prominent in one country.
Checkout queues are a bigger problem in the UK
Our survey found that UK customers are considerably more frustrated by long checkout queues. 24% named this as a top frustration, compared to just 12% of US shoppers. It's difficult to say for sure if this is because service is slower in the UK, or because UK shoppers are less patient.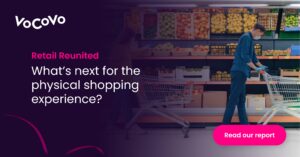 US customers are more frustrated by limited opening hours
Shoppers in the USA are considerably more annoyed by limited opening hours. Over a quarter said that this was a major problem, compared to just 11% of UK shoppers.  Lockdowns in both countries have been fairly strict, so it is unlikely that US stores have been closed more than UK stores. 
It's possible that the USA has a greater tradition of 24-hour shopping, meaning that reduced opening times feel like a greater inconvenience to the American consumer. 
Some frustrations are universal
Aside from the differences listed above, US and UK shoppers have similar frustrations with in-store shopping:
43% are worried by a lack of social distancing

34% are frustrated by crowded stores

19% are annoyed when they can't find a colleague to help them

12% are frustrated by a lack of product knowledge amongst colleagues
We can help:
Whether it's long queues, crowded stores or a lack of knowledge amongst colleagues, VoCoVo addresses all of your customers' frustrations: 
Headsets

allow you to cut queueing times by authorising self-checkout purchases remotely

Checkout colleagues can use

keypads

to call for help without leaving their position

Call Points

allow customers to speak to a colleague without queueing or searching for them

Colleagues can find product information at the push of a button and check stock levels without walking to the stock room
Customer frustrations may vary from country to country, but the basics of good customer service are universal. VoCoVo takes the friction out of shopping, leaving only the parts that customers love.