The last twelve months have been tough for us all. With some shops closed for the majority of the year, the high street took a hit: 
Year on year footfall

fell every month

since March 2020. In April 2020 it was down 81.8%, and pre-Christmas footfall dropped by 49.5%.

Overall retail sales

fell by 0.3%

in 2020, the biggest drop in 25 years. 

The first lockdown alone cost the high street an estimated

£45 billion

.
With the high street out of action, shoppers turned to the internet in greater numbers than ever:
The high street will bounce back
Reading these stats, you'd be forgiven for feeling a bit downhearted. At first glance it seems that consumers have permanently abandoned the high street in favour of the internet. But don't panic just yet.
Consumers have not had much choice lately when it comes to shopping. Most stores have been forced to close, making eCommerce the only option. Now that non-essential stores have reopened, customers can once again shop wherever they wish. The big question is whether they will choose to return to the high street. This is where things begin to look more encouraging. 
We surveyed customers from the UK and the USA to find out how the pandemic had affected their future shopping plans. Although 34% say that they will do more online shopping in future, most are keen to return to the high street:
57% of shoppers have not lost confidence in physical retail.

64% don't expect their long-term shopping habits to change. 

17% believe that it is easier to shop in-store and 16% are looking forward to shopping as a social activity.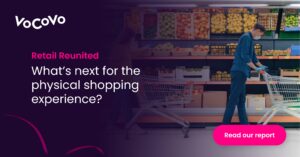 The personal touch is key
While the internet may offer unparalleled choice and convenience, our research shows that customers miss the human interaction that comes with shopping in-store
56% say that retail colleagues improve the shopping experience.

20% strongly agree that retail colleagues have a positive effect.

UK shoppers are more likely than US shoppers to favour human interaction over a fully automated service.
However, customers also have frustrations with colleagues that need to be addressed:
22% are frustrated with colleague inefficiency. 

82% feel that they sometimes know more than colleagues about products.

26% regularly have to wait over three minutes for a colleague to answer their query. 
VoCoVo gives you the best of both worlds. By improving colleague communication, you can offer personalised service without sacrificing efficiency:
Colleagues can check stock levels and product information via their

headsets

without having to leave the customer's side. 

Customers can contact colleagues via

Call Points

without having to queue. 

Our

conference feature

allows you to set up channels for colleagues to share specialised knowledge. This allows you to find relevant information for customers more quickly. 
Confidence is contingent on safety
Although customers are keen to return to the high street, the pandemic has made them wary of entering crowded spaces. As a result, many of your customers will only return if you can ensure their safety:
28% of customers

say that safety will be their top priority when choosing where to shop.

Half of UK shoppers

plan to spend less time in stores after the pandemic.

30% of consumers

have used Click & Collect more frequently in order to avoid queuing in store. 90% will continue to do so after the pandemic. 
Once again, VoCoVo can help. Our products are designed to make every second count so that you can serve more customers in less time:
Headsets

allow colleagues to find information and request help at the push of a button. 

Checkout colleagues can call for assistance via

Keypads

without holding up the queue. 

Colleagues can remotely authorise self-checkout purchases to keep the queue moving. 

Colleagues are in constant contact, allowing them to respond quickly if an area becomes too crowded. 

Customers can use

Call Points

to check on the status of Click & Collect orders without joining the main queue. 
Your customers are eager to return, but you have to meet them halfway. With VoCoVo, you can adapt to their new priorities while retaining everything that makes the high street special. Give us a call for more details.