Every penny counts in business. Customers will always shop around to find the best deals, so why shouldn't you? 
We believe that VoCoVo is by far the best shop floor communication system on the market. Some of our competitors may be cheaper, but we offer unparalleled service and a whole host of features that you won't find anywhere else. But don't just take our word for it. Here are 15 reasons to choose VoCoVo:
1. No accidental calls
Our headsets are activated using a central PTT (Press to Talk) button. This button is fully tactile. Simply press it down to start a conversation. Competitor models are activated by a large touch-sensitive area, making it possible to start an unwanted conversation by brushing against it. 
2. Smart mute
VoCoVo lets you mute your conversations at any time with a single button press. When this mode is active, your headset will periodically play a reminder so you don't forget to unmute. Better still, your headset will automatically provide the most appropriate type of muting for your situation. Our competitors offer no such options. 
3. Long battery life
Our headsets are designed to be worn all day long, so a long-lasting battery is essential. We've done everything we can to minimise power consumption and maximise efficiency. Our small, lightweight batteries can last up to 52 hours on a single, three hour charge. 
Competitor models use a battery that is 30% heavier and only lasts for 16 hours. This means that we are more than three times as efficient. 
4. Up to 1,000 devices on a single conference
VoCoVo gives your business room to grow. While our competitors only allow you to use 30 headsets at once, our system can accommodate up to 1,000, making even the largest team feel like a family. 
5. Crystal-clear conversations
VoCoVo's base units are fully synchronised. This means that they work together to share the available radio spectrum, ensuring that you never experience interference. Competitor base units are not synchronised, meaning that several units are always competing for radio space.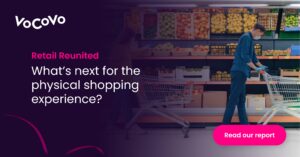 6. Unbeatable mobility
The average retail colleague takes over 14,000 steps per day. With so much of your time spent on the move, you need a communications system that can keep up. VoCoVo is designed with mobility in mind. As colleagues move between departments, headsets transfer seamlessly from one base unit to the next. While competitor models have to disconnect and reconnect whenever they switch units, ours make the transfer instantaneously. 
7. Safeguards against breakdowns
Our base units are connected via a star network configuration. This means that each unit works independently without relying on a cabled connection to the next. If one unit stops working, the rest of the network will continue to function. 
Our competitors connect their units in sequence so a single fault can bring down the whole system – not what you want in the middle of a busy shift. 
8. Share existing cabling
VoCoVo can share your network's existing cabling, saving you a great deal of time and money. Our competitors are not compatible with standard cabling so you will have to install a new network from scratch. 
9. Coverage for multiple floors
Our synchronised base units provide flawless communication across multiple floors. One of our customer's flagship store has seven floors and our headsets cover every inch. 
Because of their lack of synchronisation and slow handovers, rival systems may struggle to cope with multiple floors. 
10. Notifications from smart devices
Our headsets can receive notifications from in-store smart devices such as CCTV cameras, security systems and fridges. Our competitors do not offer this feature, leaving colleagues out of the loop when it comes to important updates.  
11. Lightweight and comfortable
With padded earpieces and an ergonomic design our headsets are comfortable enough to wear all day long. While the leading competitor model weighs in at 36g, our headsets are just 28g. 
12. Multiple wearing styles
VoCoVo headsets can be worn as a headband, a neckband or an earpiece. The last of these styles is perfect for colleagues on the move and is unique to VoCoVo. 
13. Telephony integration
VoCoVo can integrate seamlessly with your existing telephony provider, or can replace your phone system altogether. Colleagues can answer customer calls via their headsets while continuing to work. 
Our competitors do not offer telephony integration, so you will have to operate a separate phone system. Since colleagues can't answer calls from the shop floor, you run the risk of missing important customer calls. 
14. Two-way call points
Our call points allow customers to call for help without searching the store for a colleague. These can be upgraded to allow two-way conversations. Colleagues can respond to customers immediately, either answering their question directly or reassuring them that help is on the way. 
Competitor call points are far more basic. Customers can call for help but have no way of speaking to a colleague. This means that colleagues have to respond to every query in person, even if they could have solved the problem remotely. 
15. Multiple conferences
VoCoVo is the only system that allows you to set up multiple conferences. These can be tailored to specific departments or areas of knowledge. Newer colleagues can select the relevant conference and find the information they need more quickly. 
Other systems do not offer multiple conferences. Every colleague hears every message, resulting in frequent distractions. We're glad that there are other systems on the market because it pushes us to keep improving our own products. We believe that VoCoVo is the clear winner, but why not see for yourself?