The British are famous for their love of queuing, but is there any truth to this stereotype? According to our research, the answer is no. UK customers are just as impatient as the rest of the world, and the pandemic has only served to heighten this feeling. This means that cutting queuing times should be your top priority. 
Are customers getting less patient?
Long before the COVID-19 outbreak, there was evidence that customers were losing their patience with queueing. As technology speeded up the pace of everyday life, customers became less and less willing to wait in line:
A 2012 study

found that 59% of UK shoppers were not willing to wait in a queue.

The same study found that 18% of customers would immediately go to a different shop when confronted with a queue. 

By 2018, the average shopper was willing to wait just

6 minutes and 46 seconds

. This figure was lower for younger shoppers, suggesting that patience is decreasing over time. 

The same survey found that 69% of shoppers had abandoned a purchase due to the length of the queue. 
Even without COVID-19, it seems likely that customer patience would have continued to decline. However, the pandemic has caused the trend to accelerate significantly. Customers' reluctance to queue used to stem from impatience alone, but now there are also safety concerns to take into account. Customers have become wary of public places, meaning that queuing for long periods of time feels like an unnecessary risk: 
64% of UK shoppers

avoided busy stores during the pandemic, and 40% were afraid  of catching COVID-19 while queuing. 

24% of UK shoppers say that checkout queues are their biggest shopping frustration since the pandemic. 

24% of UK shoppers have changed stores during the pandemic as a result of long queues. 

A quarter of UK shoppers will continue to shop online after the pandemic in order to avoid queues.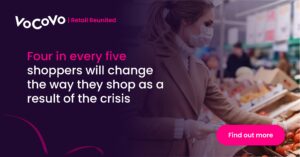 What is it about queueing that we hate? 
The psychology of queueing is fascinating. Research shows that the amount of time spent in a queue isn't the only thing that affects the level of customer frustration. It also depends on how customers are treated while they are queueing: 
Uncertain and unexplained waits

feel longer. It is important to communicate with customers during the queuing process so they don't feel that they have been abandoned. 

Anxiety

makes queueing times seem longer. This is especially true at the moment, so It is important to reassure your customers.

Perception

often matters more than reality. If a queue seems to be moving quickly, customers are more willing to wait. 

Customers are less frustrated by queues if it seems that colleagues are doing everything they can to serve them quickly. 
Find out how you can keep your customers happy in the post-pandemic world:
Shorter queues mean happier customers
VoCoVo is designed to improve the queueing experience on both a practical and a psychological level. Not only will queuing times feel shorter- they actually will be:
Call Points

allow customers to check stock levels and Click & Collect orders before they join the queue. This eliminates the frustration of joining a long queue only to discover that a product is unavailable. 

Keypads

allow checkout colleagues to call for assistance without holding up the queue. Tasks such as replenishing change or replacing a till roll can be performed without the colleague leaving the checkout. Customers will see this and realise that colleagues are working as quickly as possible. 

Colleagues can authorise multiple self-checkout purchases via their

headsets

. This speeds up the checkout process and helps you to maintain social distancing. 
Not only does VoCoVo reduce queuing times, it also shows customers that you care. Customers who feel valued are more likely to remain loyal, and may even be willing to spend more on their next visit. 84% of businesses who focus on customer experience see an increase in revenue, so streamlining your queueing system is a must. 
Get in touch today to get started.