VoCoVo's #oneteam has been embracing working from home this year. We've all found excuses to get together when we can (safely) and stay in touch online. For six VoCoVo colleagues 2020 has been an extra special year, because they welcomed gorgeous puppies into their families.
We introduced our team's four puppies in October. We've also got two new tiny pups that you haven't met already. Now it's almost Christmas, so here's an update to what our pooches have been up to since then!
Introducing tiny Zelda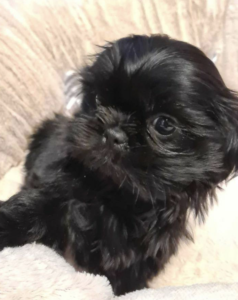 Teeny tiny Zelda belongs to Heidi Asbury, VoCoVo's Head of Happiness. Zelda is a baby Shih Tzu puppy, with gorgeous black fur. She has a very sweet nature, but when her squeaky toy pig comes out she shows her fierce side!
Zelda will be spending Christmas in Oxford with her new family. Heidi is looking forward to when Zelda's vaccinations are complete, so she can safely go on walks with her new family. Welcome to the team, Zelda!
Welcome, Nelson!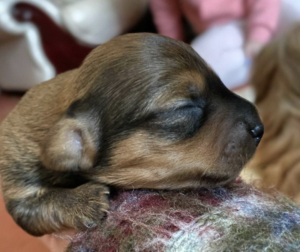 Gorgeous Nelson belongs to Abby Flatman. Nelson is a Shih Tzu crossed with a sausage dog, the breed is known as a 'Schweenie.' Nelson is so small he hasn't found his voice yet, his only method of communication is a cute squeak! 
Nelson is still with his brothers and sisters until he's big enough to leave his mum after Christmas. Abby's excited for him to join her family.
Season's Greetings from Barney!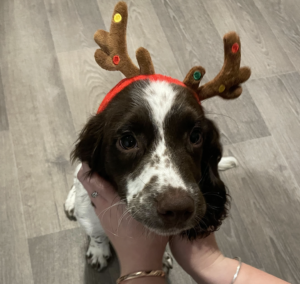 Barney the Liver and White cocker spaniel belongs to our Business Development Manager Olivia Robinson. When he's not training to be one of Santa's reindeers, he loves muddy walks and jumping around at home.
Since we last caught up, Barney has had an awful time teething so will be given lots and lots of toys this Christmas to keep him busy (and stop him from nibbling Olivia's hand). For Christmas, Barney is visiting his grandparents and has been promised a bit of roast dinner if he behaves himself.
Arni is feeling festive!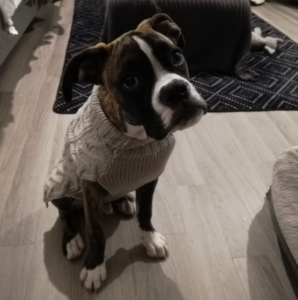 Adorable Arni has grown a lot since we met him in October. He's now a 6 month old Boxer, who belongs to Customer Project Manager James Dallimore. 
This Christmas, Arni is wrapping up warm in his new jumper. His dad told us that he's looking forward to extra helpings of turkey with gravy. Santa has also been told that Arni needs a new bouncy ball, because he's chewed his old one to pieces. Happy Christmas Arni!
Cuddle up with Teddy!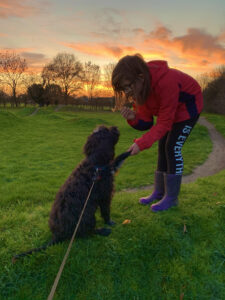 Teddy is the fluffy and outgoing Cockapoo belonging to Marketing Executive Gemma Taylor. Here he is enjoying a festive walk with his family, which is his favourite part of the day.
This December, Teddy is looking forward to getting some new toys. But he's even more excited about the Christmas tree and decorations going up. Aw!
Say hello to Cooper this Christmas!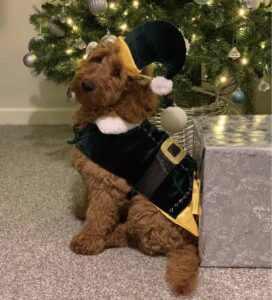 Like Teddy, Cooper enjoys his long frosty walks with his dad, Director Martyn Jones. 
He's super excited for Christmas, busy munching on his doggy advent calendar every day. Cooper can't contain his excitement at all the deliveries and presents under the tree! He's been trying to open them early, so Santa has been busy hiding them. 
To all of our customers, colleagues and furry friends, have a wonderful Christmas!