Originally posted 20th October 2020
At VoCoVo, we've all embraced working from home this year. A lot of our team have organised get-togethers, stayed in touch using our remote communication technology, and organised pub quizzes and virtual coffees to stay connected. 
We're proud of our team culture. But we're even prouder of our newest 'hires.'
This October, we've welcomed four new pooches into the VoCoVo family! 
Meet Barney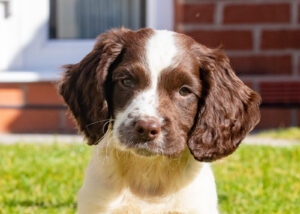 Bouncy Barney belongs to our Business Development Manager Olivia Robinson. Born on 18th July, he's a Liver and White Cocker Spaniel. He loves a snooze but also loves a wild run around his garden for 10 frantic minutes every hour. 
According to his mummy, he loves chicken and peanut butter snacks. 
When Barney isn't eating chicken and peanut butter, he loves to nibble on Olivia's hands or feet. He's brought a lot of smiles and laughter into Olivia's home and to a few of our meetings. 
Introducing Teddy!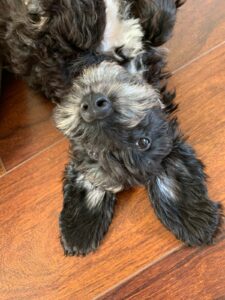 Teddy is the adorable puppy belonging to Marketing Executive Gemma Taylor. He is an F1 Cockapoo, with a soft coat and even softer personality. 
Born in June, he's a couple of weeks older than his fluffy pal Barney. Teddy loves his family, toys and sleeping.
Teddy's hobbies are chewing shoes, chasing balls and digging holes in the garden. He keeps his family busy with lots of lovely walks and has boundless energy. When he's not digging holes, Teddy loves investigating new smells and zooming around the house as fast as he can.
Welcome to the team, Teddy!
Meet Arni!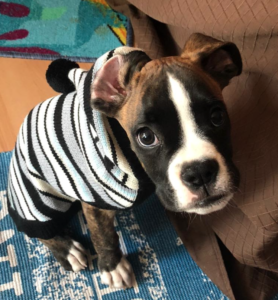 Arni is a 4 month old Boxer, who belongs to Customer Project Manager James Dallimore. His birthday is the 10th June, and he is a lively, happy pooch! 
His favourite hobbies include howling at lorries that go past, trying to drink water from the hosepipe and running around in the park. He loves to snack on boiled chicken when he's not chowing down on his favourite dog food.
Say hello to Cooper!

Cooper belongs to Director Martyn Jones. His birthday is 8 days before Barney, on 10th July 2020. He's a Cockapoo, whose favourite snack is fresh chicken. 
He's eager to learn (especially when there's chicken in the air). 
His timid demeanour has evaporated, and he's finding his feet with his new family. He loves running up and down the stairs, wrestling with his dad and nibbling on feet. He's already learned to sit, hold out a paw and lie down. Good work, Cooper!
PUPDATE!
Since October, 2 more gorgeous pups have joined the VoCoVo team!
Here's Nelson!
Although little, Nelson is not afraid to give bigger dogs a run for their money. At just 8 months old, this Schweenie also isn't afraid to herd of cows either!
Presenting Monty!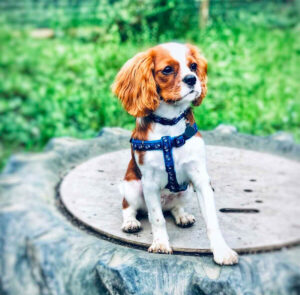 Precious Monty the 7 month old Cavalier King Charles is treated as royalty by owner Katie. Prince Monty insists upon suitable amounts of fuss every morning alongside his owner's first coffee of the day.
A big VoCoVo welcome to the new pups in the team!