Before the pandemic, the Association for Convenience Stores estimated that there were over 46,000 convenience stores across the UK. In 2019 this sector alone was responsible for over £40 billion in sales, which amounts to one fifth of all grocery sales.
Early data suggests that since 2019, convenience stores have thrived. With a shift to localised shopping, convenience stores are tapping into a larger share of the retail market.
However, it's not just convenience stores that operate with small teams. Growing numbers of large retailers are also using smaller, more flexible team structures to boost productivity. For example, Tesco's opening of 'Jack's' stores employed an innovative small team structure. Read about it here:
For small teams, especially those working longer hours, connectivity and communication is vital.
The impact of COVID-19 on spending
Despite the impact of COVID-19, there is every reason to be hopeful for the future. Our latest research shows that over half of customers are eager to return to the high street. A separate survey found that 74% of consumers are in a better or similar financial position than they were before the pandemic. This suggests that many customers have money and are keen to spend it.
The pandemic didn't hurt smaller stores, in fact some research suggests that convenience stores and smaller supermarkets increased their sales. A report on healthy eating habits during COVID-19 also found that smaller stores will prove important in offering local, alternative options for families to shop regularly and affordably.
Download our latest insight report, 'Retail Reunited:'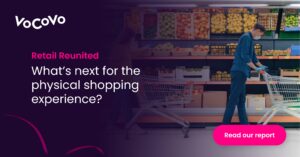 Get lean and mean with VoCoVo
Smaller, leaner teams are the future. The word 'lean' is thrown around a lot in business, but what does it actually mean? Put simply, a lean business is one that maximises value while reducing waste. 
To apply this concept to retail, it helps to see the customer's point of view. If shoppers are frustrated by a particular aspect of their experience, it is probably not as efficient as it could be. Our recent survey offers some valuable insights: 
54% of shoppers regularly wait more than a minute for their queries to be answered.

19% say that being unable to find staff to help them is their biggest frustration
How can VoCoVo help your small team act fast, even when they're busy?
Think small, even if you're a big team
Answering queries is clearly a sticking point for many colleagues. Searching the store for information can eat up precious time, not to mention frustrating the customers who are waiting for you. Our products are designed to streamline this process so that you can make every second count:
Headsets

allow you to communicate with every colleague at the press of a button. You can ask colleagues for information and, if they do not know the answer, they can transfer you to someone who does. 

Call Points

allow customers to contact colleagues for help without having to track them down. When a customer presses a Call Point, you can answer immediately via your headset. 

Call Points can be placed on Click & Collect or customer service desks. This allows you to unman these positions and put colleagues to better use elsewhere.

Colleagues can continue to work while answering customer queries. This can save you 105 minutes a day by increasing task efficiency. 
These are just a few of the ways that VoCoVo helps you to do more with less. Give us a call today for more tips on staying lean in 2021.