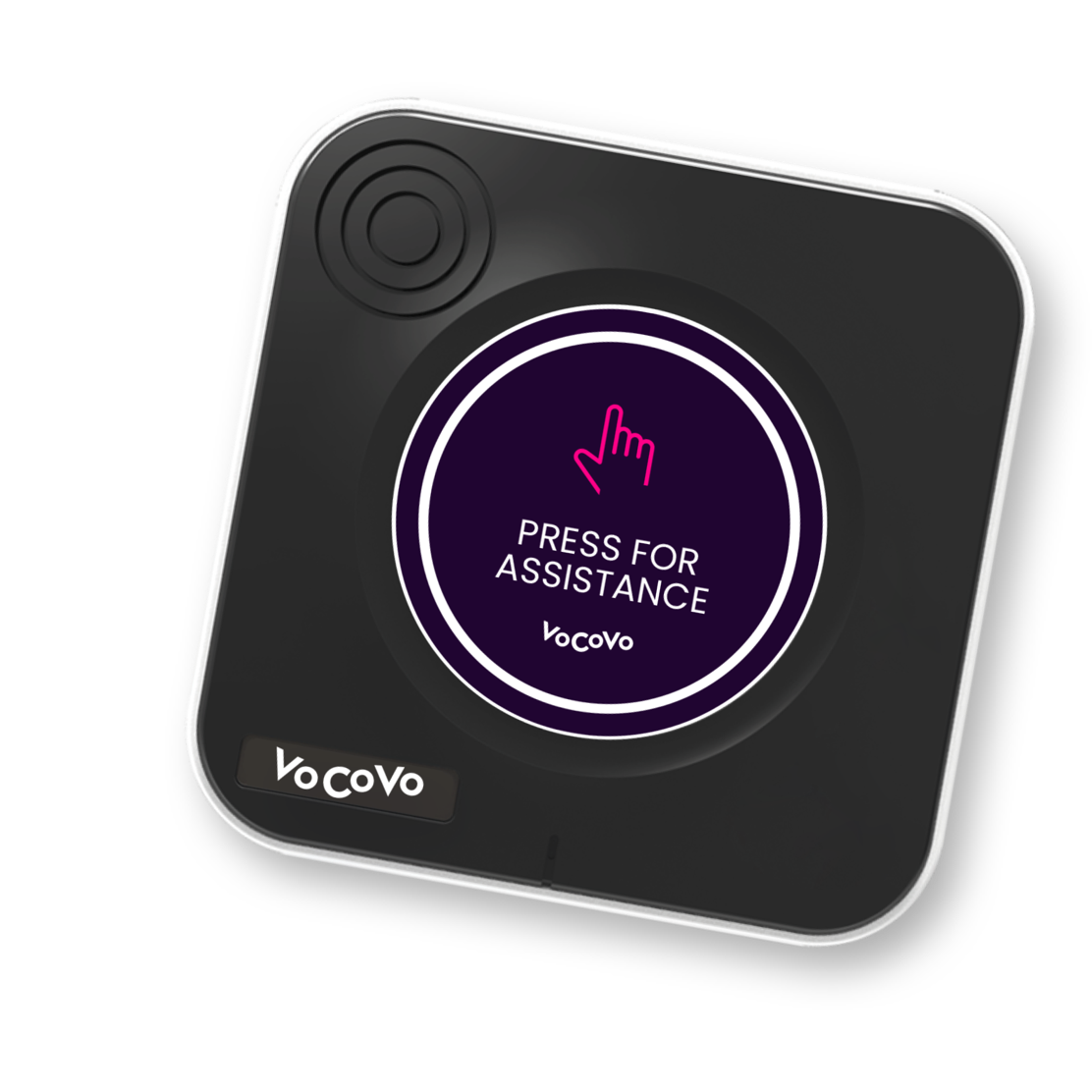 Using Call Points to improve conversations
VoCoVo's technology suite includes Customer Call Points, pictured above. These offer instant customer service in unmanned areas, at the touch of a button.
Our supermarket customers have increased their usage of this technology through the pandemic because it allows for a smaller team to offer instant customer conversations from a safe distance. In one of our customer's stores, we tracked interactions on one Call Point. The button was pressed over 4,000 times in a single month, showing a growing trend towards customers preferring this type of service.
Some of our well-known UK partners use Call Points in customer service desks or deli counters so that customers can ask questions and instantly interact with a colleague.  This technology facilitates proper conversations, instead of a traditional one-way intercom.
We know that times are currently tough, especially for UK retailers. But there are small wins to be had. By using smarter technology and connecting teams, customer service doesn't need to suffer. 
Answering tricky questions
We want smaller teams to feel confident in supplying the right information when it's needed. A connected team is more likely to be able to offer more insights because our ecosystem turns your team into an encyclopedia of experience and knowledge.
VoCoVo's own research into the experience of UK retail colleagues found 39% felt the biggest challenge in the store was answering customer queries. Over half, 54%, felt that customers often knew more about products than they did, which led to a surprising trend. 43% of our respondents actually admitted to giving customers false information at times, just to be able to provide an answer.
Tight-knit colleagues
Colleagues working in small teams are in many ways at an advantage. Studies show that smaller teams report higher morale because more meaningful social connections are able to grow. Happier colleagues benefit customers, by providing a welcoming atmosphere.
In retail, smaller teams face the challenge of managing large volumes of customers and manning different departments within a store. In a hardware store, for example, there are multiple and often complex sections to understand. This means colleagues must be knowledgeable and flexible to meet customer needs. Our technology is designed to connect smaller teams, so that knowledge can be shared across larger sites.
We work with the UK's best-known retailers, to address the challenges ahead and offer better customer service in-store.