Customers love to ask questions
In a recent survey, 90% of customers said that receiving an immediate response to their query was very important. 
But customers hate waiting
The average customer is only willing to wait in line for 6 minutes. 50% of customers believe that long waiting times are the most off-putting aspect of shopping. 
85% of customers whose calls are not answered will not ring back, and 60% are likely to take their business elsewhere. We can help change that:
With so much pressure to get it right, colleagues need as much support as possible when answering customer queries. This is where VoCoVo call points can help.
What is a VoCoVo call point?
Our call points allow customers to request immediate assistance at points in your store, such as checkouts and customer service desks. Here's how they work: 
The customer presses the button on the call point to request assistance.

A message can be sent to

a group, an individual or

all headsets in the store, telling colleagues the customer's

exact location

. This message repeats every 20 seconds until a colleague answers the call.

The call point will flash until the request is answered,  showing the customer that help is on the way. 

Colleagues can

answer the question remotely

via their headsets or attend to the customer in person.

Once the query is answered it will be removed it from other colleague's headsets. 
Call points help teams in larger stores
Call points are a great addition to any customer-facing business, but they are especially useful in stores handling fast moving consumer goods (FMCG). In stores with large inventories, colleagues can face frequent interruptions by customers searching for products. 
Call points allow colleagues to answer queries remotely while continuing to work, greatly increasing their productivity. In our recent survey of retail colleagues, 40% said that the ability to answer calls while stocking shelves would make them more productive. 
Call points are also a big help in stores with multiple departments. Rather than colleagues having to cross the store to direct customers to the appropriate section, they can use their headsets to tell customers where to go.  Different departments make money in different ways. 
For example, homeware departments sell fewer items but make more money on each sale. This means that missing a homeware sale can be extremely costly. Call points stop this from happening by enabling colleagues to engage with customers in any department, even if they are on the other side of the store.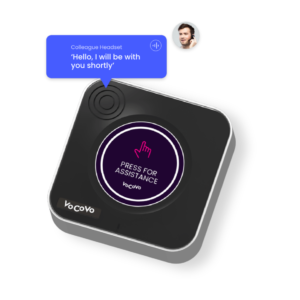 How can call points help with customer service?
VoCoVo call points make life easier for customers and colleagues alike:
Customers can ask questions without a colleague being there. This saves the customer time and means that

colleagues don't have to interrupt their work

to attend to enquiries. 

Call points enable

social distancing

as colleagues can answer queries from afar. 

Colleagues will never miss a question because they didn't attend to a customer quickly enough. These interactions can often

lead to sales

. 

There is no need for a colleague to hover near the checkout or customer service desk. They can get on with other jobs until they are needed. Our research shows that unmanning a customer service desk can save you

£594 per week

per store, or

£30,888 per year

per store. 
Get in touch today
for more tips on improving your customer experience.