By the time you read this, all non-essential stores will have reopened in the UK. Many of you will be wondering what to expect from your returning customers and, more importantly, what they will expect from you. 
The good news is that getting customers back to the high street won't be a problem. Our recent survey shows that the public's appetite for in-store shopping has remained strong:
57% of shoppers have not lost confidence in physical retail.

16% are looking forward to shopping socially with friends or family.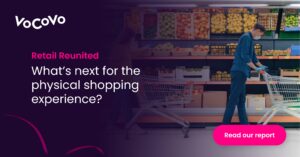 But this doesn't mean that the pandemic has had no effect on customer sentiment. Such a disruptive event is bound to trigger lasting changes in consumer behaviour. According to our survey, 82% of customers expect to change the way that they shop as a result of the pandemic. 
But what will these changes be? The best way to find out is to look at grocery stores. As the only retailers that have remained open for the entirety of the pandemic, they can give us valuable insight into the ways in which customer behaviour has evolved. 
The return of the weekly shop
Brits have traditionally bought their groceries in a single, weekly shop. However, this phenomenon has declined in recent years. Research by the Co-op in 2015 found that over half of shoppers preferred to visit the supermarket more than once a week. A 2017 study by Waitrose found that two thirds of customers visited the supermarket at least once a day, and 10% of people went shopping for their evening meal every day after work. 
The pandemic caused a swift reversal of this trend. With the government advising people to go out as little as possible, the big weekly shop came back into fashion. In April 2020, Tesco reported that the number of checkout transactions had halved, but the average value per transaction had doubled. Other supermarkets reported a similar pattern. Total UK grocery sales increased by £524 million in April 2020, while the average number of shopping trips per household fell from 17 to 14. 
This behaviour wasn't  just confined to the early days of the outbreak. Surveys found that customers were visiting stores less frequently but spending more at every stage of the pandemic:
A

July 2020 survey

found that the number of US customers shopping for fresh food multiple times in a week had fallen by 50%.

UK supermarket revenue

rose 10%

in February 2021 despite a drop in footfall. 
As well as visiting stores less frequently, many customers abandoned them altogether in favour of online grocery shopping: 
Is the weekly shop back for good?
It's clear that customers are shopping less frequently as a result of the pandemic. The real question though, is whether this behaviour will continue once the danger has passed. Here, the answers are harder to predict. Both our own research and other customer surveys paint a mixed picture. 
On the one hand, many customers plan to return to their normal shopping habits as soon as possible:
But other customers expect to stick to their new behaviours after the pandemic:
18% of UK shoppers

plan to visit stores less frequently than they did before COVID.

34%

of UK and US shoppers plan to shop online more frequently.

80% of European shoppers

plan to continue buying groceries online after the pandemic. 
VoCoVo is perfect for frequent and infrequent shoppers alike
Looking at these results, it seems likely that future shopping habits will fall somewhere in the middle. Customers will be willing to visit stores more often than they did during the pandemic, but will probably not return to the daily shopping of the late 2010s. 
However frequently customers visit your store, efficiency will be key. After a year of online shopping, consumers will have little patience for delays. VoCoVo streamlines the in-store experience to keep your customers satisfied:
Customers can use

Call Points

to call for assistance without searching for a colleague. 

Colleagues can find information for customers immediately via their

headsets

.

Colleagues can authorise self-checkout purchases remotely to reduce queuing times. 

Keypads

allow checkout colleagues to call for help without holding up the queue. 
Get in touch today for more details.