The last 12 months have been tough, but there are some areas close to home where many of us found positivity. DIY sales have outstripped most other sectors, and home improvement has grown in popularity across the nation. People are keen to make their homes as nice as possible and, for many, lockdown gave them time to do this. 
Research by Aviva found that 85% of UK residents undertook a DIY task during lockdown. Last year the average person spent 39 minutes a day gardening or doing DIY, an increase of 147%. 
This newfound love of DIY hasn't just changed the way we spend our time. It has also affected how we spend our money. With restaurants and cinemas closed and foreign holidays out of the question, many of us have chosen to invest our extra cash in home improvement.  
During a bleak year for UK retailers, DIY sales have consistently bucked the trend. Sales of household goods increased 42% in May 2020, going some way to mitigate the economic impact of the pandemic. The biggest winner was B&Q which saw its sales increase by 21% in May and June. 
A lot of this success can be attributed to the company's early adoption of Click & Collect. Realising that customers were unwilling to spend too long in store, the company set up outdoor collection points for online orders. Online sales soared by 200% and other companies quickly followed suit. 80% of UK retailers now offer Click & Collect and 42% of consumers are more likely to use the service as a result of the pandemic.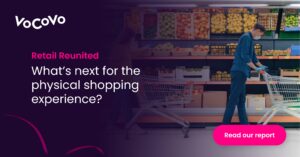 Click & Collect is here to stay
The popularity of Click & Collect is good news for retailers. DIY is a particularly hands-on sector, meaning that customers are keen to see products before they buy them. Our recent survey of UK and US shoppers showed that 41% plan to purchase home, garden and DIY products using a mixture of online and in-store shopping.
However, it's not just DIY retailers that can benefit. The growth of Click & Collect is part of a wider trend towards omnichannel shopping. Our survey shows that shoppers are likely to mix and match in-store and online services for a range of products:
52% of shoppers plan to shop online and in store for fashion items.

49% plan to mix and match when purchasing electronics and home appliances.

46% will shop online and in store for health and beauty products. 
62% of shoppers have made a conscious effort to spend less time in stores during the pandemic. Even after the danger has passed, these anxieties are likely to persist. On the other hand, our survey shows that 57% of shoppers are keen to get back to stores.
Click & Collect offers the perfect compromise. It limits the amount of time spent in-store without depriving customers of the experience of physical shopping. 79% of customers say that contactless pickups are very important to them, so focusing on your Click & Collect service is vital. This is where we can help:
Call Points

can be placed on Click & Collect desks. Customers can check on the status of their order without joining the main queue or tracking down a colleague. 

Colleagues can contact the stock room via their

headsets

for updates on Click & Collect orders. This saves the customer waiting while a colleague walks there and back. 

External Call Points (coming soon) will allow delivery drivers to alert you when a Click & Collect order arrives. 
We expect the UK's love for DIY will last beyond the end of the pandemic. Fads come and go, but good customer service is always in style.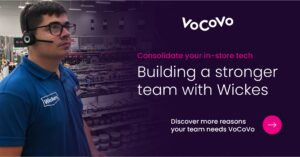 Get in touch today
and let's make 2021 your best year yet.