Working in retail is always challenging, but recent months have been especially tough on colleagues. As essential workers, retail colleagues have been instrumental in keeping the UK up and running during the pandemic. Colleagues have had to adapt to changing safety regulations while also doing their best to calm the anxieties of customers. 
Colleague abuse in on the rise
Sadly, these efforts have not always been met with the gratitude they deserve. The pandemic has been a stressful time for everyone and retail colleagues have often found themselves on the receiving end of customer frustration. Our recent survey of UK and US customers produced some worrying results:
21% of customers admit to shouting at retail colleagues during the pandemic

7% of customers shout at colleagues all the time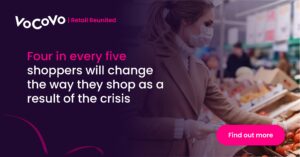 These results are only based on customers who admit to shouting at colleagues. Other findings suggest that colleague abuse has been far more prevalent during the pandemic:
The Co-op reported a

76% rise

in the verbal abuse of colleagues, with over 100 incidents every day

Almost 90%

of retail colleagues were verbally abused in 2020

One in ten

were physically assaulted 
There is a mental health crisis in retail
Unsurprisingly, this has taken a huge toll on the mental health of retail colleagues:
Things can't go on like this. Research shows that over 40% of UK workers plan to quit their jobs after the pandemic. If something isn't done about colleague abuse, many of these resignations will come from within the retail sector. Recruiting and training new colleagues is expensive, so it pays to prioritise the safety of those you already have. 
At VoCoVo, we believe that everyone deserves to feel safe at work. Security is at the heart of what we do. Our system connects colleagues so that support is always at hand. Here's how it works:
Easy communication
Our headsets keep colleagues connected at all times. This improves safety on both a practical and a psychological level:
If a colleague feels threatened, they can call for assistance immediately. Unlike a tannoy system, this can be done with complete discretion. 

Colleagues can warn other colleagues about abusive or suspicious customers that have entered the store.

Colleagues can contact emergency services directly from their headsets.
Knowing that help is at hand is especially reassuring for colleagues working alone or at night. Our research shows that colleagues feel 54% safer when using VoCoVo. 
Checkout support
Unlike shop floor colleagues, checkout colleagues are tied to one position. This means that they often feel isolated, especially when confronted with abusive customers. 
To make matters worse, checkout delays are a frequent cause of customer anger. 24% of UK customers say that checkout queues are their top frustration. 30% of customers who admit to shouting at colleagues do so because they want to be served faster. 
Our keypads are designed to give checkout colleagues peace of mind:
Pressing the keypad sends an automated call for assistance to all headsets

Colleagues can specify the nature of the request by choosing the appropriate button

If a colleague feels unsafe, they can use the keypad to contact the security team without leaving their position
Integration with security systems
Traditional security systems have their place, but they don't always make colleagues feel safe. CCTV cameras can identify abusive customers after an incident, but they don't do much to help colleagues at the time. Tannoy systems are useful for raising the alarm, but they require colleagues to draw attention to themselves by making an announcement.
VoCoVo can be integrated with your existing security systems for a more colleague-focused approach:
VoCoVo can be connected to smart CCTV cameras. When cameras pick up something suspicious, all colleagues receive an automated alert.

Headsets can be integrated with your tannoy system. Colleagues can issue a public alert without giving away their identity or location. 
Even in turbulent times, there is no excuse for colleague abuse. We can't change customer behaviour overnight, but we can make sure that colleagues have as much support as possible.