NRF's Big Show has a special place in the retail world. As both the biggest and earliest event in the calendar, it's the perfect opportunity to take the temperature of the industry, and to plot a course for the year ahead. 
The last two years have been dominated by the pandemic, but this year was different. There was a palpable sense of optimism in the air as exhibitors and spectators from all over the world descended on New York's Javits Centre. Everyone was keen to make up for lost time, and we were excited to be part of it. We caught up with our Chief Commercial Officer Martyn Jones after the event to find out how it went.
The last two Big Shows were dominated by the pandemic. Was there a different atmosphere this year? 
Absolutely. Footfall was up and people were out looking for new technology. The atmosphere was vibrant for the entire event. It never seemed to die off at any point. Retail is back!
Have new priorities emerged for retailers?
I think the industry has some work to do. I spoke to a number of senior retail leaders and the consensus was they were a little disappointed in the new and innovative ideas on show at this year's event. I saw it as a call to the industry to work harder and bring more to the market. I know this has been hard for manufacturers over the last few years with Covid damaging supply chains, but I think the world is getting back to normal a little bit now. 
Where does VoCoVo fit into this? How can we help retailers to meet these challenges? 
VoCoVo is a unique solution in the marketplace, and can do many things competitors can't. Telephony is a big part of this. We offer retailers a way to improve call answer rates and reduce licence costs across all their stores, along with the added benefit of team and customer communication. 
What was the response like from visitors to the booth? 
I thought the response was really positive. We generated 150 leads in 2022. This year, it was 300. We walked away with a number of very active opportunities which we will be following up in the coming weeks and months.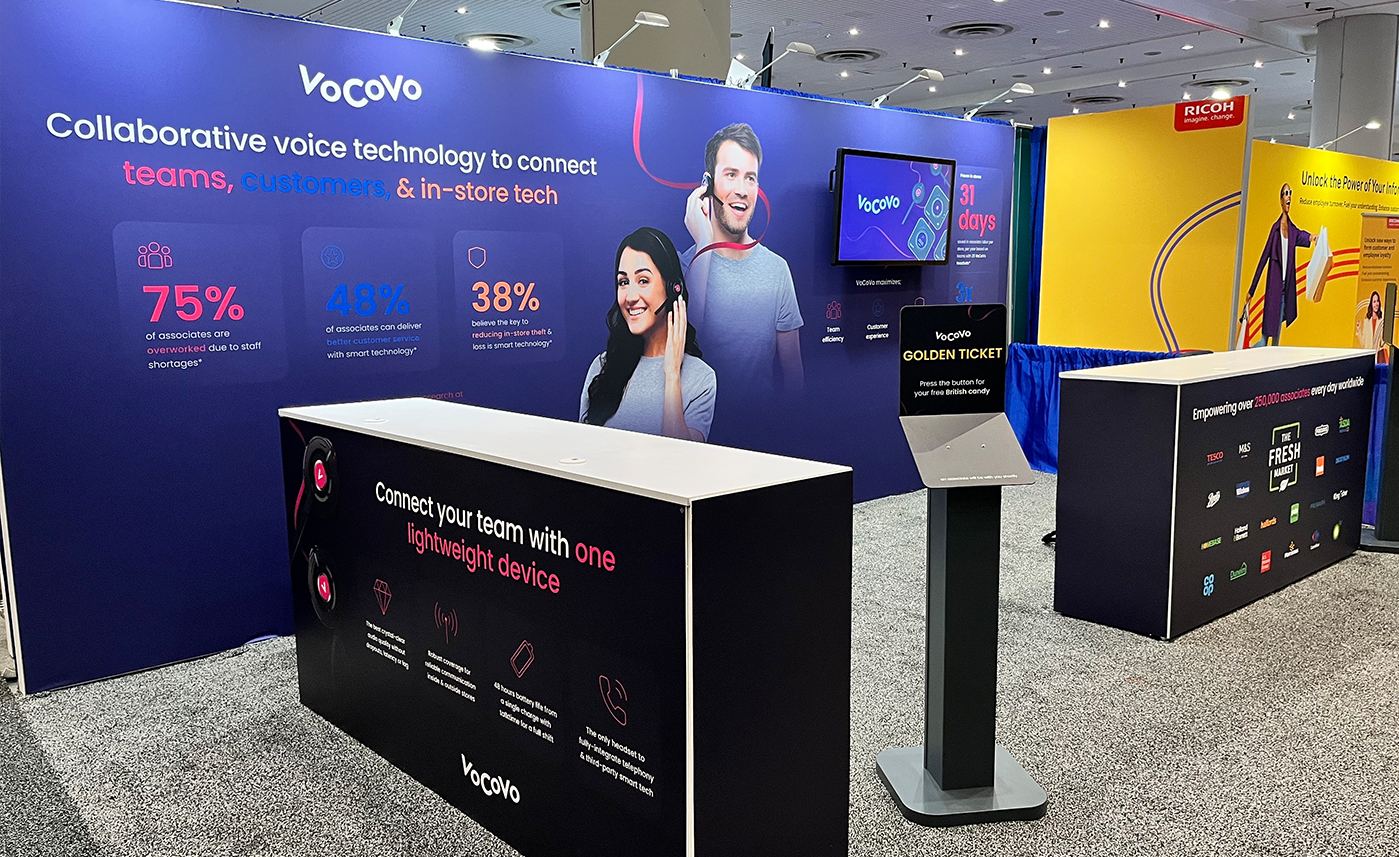 A fresh approach to communication
This year's show didn't just mark a turning point for the industry. It also coincided with a personal milestone for us. The event came just a few days after we announced our partnership with The Fresh Market, one of North America's premier fresh-focused grocery chains. 
For the first time, we were attending the show with a foothold in North America. We could approach potential customers, safe in the knowledge that our system had proved itself in this market. As Martyn explains, this made a huge difference:
The theme of this year's event was "breaking through", and our partnership with The Fresh Market certainly helped us to break through the noise. For the first time, we were able to say 'US business', 'US sales team' and 'US customers'. It was an opportunity to let everyone know that we are here and we are ready and raring to go.
The Fresh Market has introduced our headsets into 44 of its stores, but Martyn is confident that this is just the beginning:
We're feeling brilliant about the partnership. TFM has big growth plans, so we're looking forward to bringing more innovation to their stores in the coming years.
NRF was the perfect start to 2023. We left feeling energised and full of hope for the year ahead. We're excited to follow up on new leads, but we're always looking for more. If you'd like to find out what a fully integrated communication system can do for your business, don't hesitate to get in touch.