'America is the world's largest market for consumer goods. Some might even consider it the birthplace of modern retail. While the UK market has its own strengths, the influence of the US can't be understated. That's why we looked across the pond to understand the impact of 2020.'
When we decided to survey customers about their post-pandemic plans, we thought it was important to include both UK and US consumers. The results paint an interesting picture. While both nations have been hit hard by the COVID-19 outbreak, their responses differ in several key areas. This is especially true when it comes to online shopping. 
eCommerce has exploded in both countries
With both nations in lockdown for much of the last 12 months, British and American consumers have been driven online in their millions:
What happens next?
Shoppers in both countries have been purchasing goods online out of necessity. The big question for retailers is whether this behaviour will continue after the pandemic.  
Our survey found that customers in both nations are equally likely to continue shopping online. 34% of shoppers in both countries expect to do more online shopping after the pandemic and 31% plan to do at least half of their shopping online. However, opinions differ when it comes to specific types of products:
14% of UK customers will continue to do their grocery shopping online compared to just 9% of US customers.

28% of UK customers plan to buy electronics and home appliances online, compared to just 19% of US shoppers. 
Another notable difference between the two countries are the reasons for shopping online. The stereotype says that British customers love to queue, but our research suggests otherwise. 25% of UK customers said that not having to queue was their main reason for shopping online. Only 9% of US customers said the same thing. This is part of a wider pattern. Across the survey, UK customers were found to be less patient than their US counterparts:
24% of UK shoppers said that long queues were their top reason for changing stores, compared to just 18% in the US. 

33% of UK shoppers want to spend less than ten minutes in store, compared to 27% of US shoppers. 
Join Aaron Copestake and Lee Spicer on our April Retail Webinar, where they will be taking a deep dive into our new retail research report 'Retail Reunited'.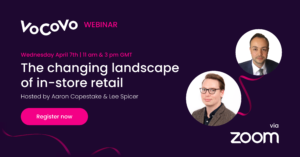 Small differences, big implications
While the US is traditionally seen as the more technologically advanced nation, these results show that it is UK customers who are more likely to embrace online shopping. 
A lack of patience for queuing appears to be the decisive factor, so you will have to do everything you can to reduce waiting times. 
This is especially true if you sell groceries or electronics- two areas where UK customers are more inclined to shop online. Luckily, VoCoVo can help. All of our equipment is designed to save you precious seconds at every turn:
Headsets
Check stock levels and find information for customers at the push of a button.

Speed up the checkout process by authorising self-service purchases remotely.

Answer customer calls without stopping your work.
Keypads
Checkout colleagues can call for help without leaving their position. 

Tasks such as replacing till rolls or replenishing change can be carried out without holding up the queue. 
Call Points
Customers can get immediate help without having to track down a colleague.

Customers can check on the status of Click & Collect orders without having to queue. 
By streamlining the in-store experience, you can impress even the most impatient of customers. 
Whether the migration to online shopping is temporary or permanent, VoCoVo gives you everything you need to compete in the post-pandemic world.