At VoCoVo, we want our customers to be able to provide the best possible service and take care of their teams. We know that for many of you this is a deeply stressful time. We're here to help throughout. If you need support, please get in touch.
The impact of the pandemic has affected retailers all over the country. Many have adapted quickly or faced closure. We've also seen a big shift in customer behaviour.
The crisis has impacted behaviour positively in some ways. Social distancing has made us more aware of each other and more respectful in shops. Our attitudes towards key workers improved; we now see retail as the 'front line'. The national perception of retail workers has risen, as these roles are recognised as crucial.
However, a two month quarantine has changed the frequency and scope of shopping habits. With reduced movement, UK shoppers are making fewer trips out, purchasing more during each shop and concentrating their shop on one retail outlet. The impact of these changes in behaviour may be temporary, but some could have a lasting effect. As Tesco CEO Dave Lewis said, 'We've changed more in a few weeks than in 10 years.'
Many of us now prefer to shop online, with studies showing 39% of consumers purchased items online that they hadn't before and 77% expect to do more shopping this way even after the crisis ends. Does this show a permanent shift in behaviour? Research by Ernst and Young suggests so, with 44% of shoppers feeling their behaviour has changed permanently,
Studies by Appinio show that 40% of British shoppers engaged in panic buying, 63%  preferred to buy food that lasted 10 days or more. This new behaviour could be good news for grocery sales which are up 20% in the last quarter, yet sales in homeware and fashion have still suffered.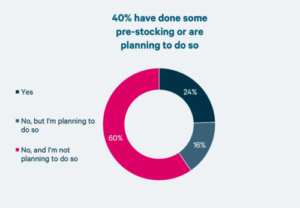 Source: Consumer study: Coronavirus
So far, retailers have coped amazingly by adopting new measures and recruiting to meet demand. The change in consumer behaviour will continue to have an impact on teams in the months to come. Retail parks and local retailers may benefit from providing convenience. We'll also see even more innovation in larger high street stores as they adapt to the changing demands for physical distancing.