Christmas 2020 will be different from any other. It's too early to predict what may happen over the festive season, but it's worth preparing for. 
As of earlier this week, the government introduced a 'three-tier' Covid response system. For some areas, this could mean Christmas during lockdown. 
Retailers face significant challenges around Christmas. The season brings record footfalls in-store. Consumers spend significantly more during shopping trips. In the UK, the average family spends at least £820 on Christmas. 
How can retailers cope with demand, whilst keeping colleagues and customers safe?
How 2020 changed retail
If they remained open, large retailers had to adopt new measures to meet social distancing guidelines. For some, the pandemic accelerated innovation. 'Ten years of transformation happened in a few weeks,' said Tesco boss Dave Lewis. 
Changes had to take place rapidly to ensure both colleague and customer safety. Although plexiglass screens and distanced queues are now 'normal,' those represented a rapid and important innovation that took place earlier this year.
According to a survey by Visa, a third of Britons shopped online for the first time in lockdown. Non-food retailers saw a huge spike in online sales. KPMG estimates that by 2025, 50% of all the goods we buy will be online. This has impacted the high street.
As more of us shop online, retailers are shrinking their store footprint or relying on smaller, more flexible teams. Some stores sadly failed to make it through lockdown. But many have prospered, despite adversity. Tesco announced recently that it would be retaining the 16,000 staff it acquired during the first spike of the virus.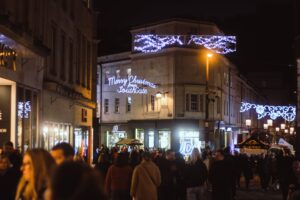 Some festive Christmas markets have already been cancelled. Leeds and Birmingham have called off their Christmas markets, and Winter Wonderland (London's biggest fair) won't go ahead.
How team communication grew in importance
Our research earlier this year revealed the extent to which retail colleagues face challenges at work. An interesting trend emerged. 
55% of our respondents wanted to be

more connected to their colleagues

47% wanted the ability to communicate more effectively 

39% felt they'd be

better at their job

if they could communicate instantly with colleagues
Team communication makes a huge difference during times of adversity. We heard from many teams across the country that communication helped them feel safer, more content and confident at work. This was especially true during times of stress.
Our unique voice solution provides crystal clear, instant open communication between an entire team. 
It enables colleagues to rapidly solve customer queries, seek support and guidance, and act decisively to deal with theft and the challenges of working in retail.